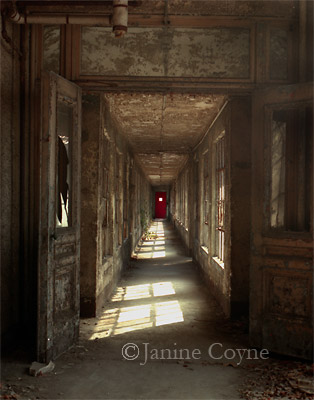 The Red Door Janine Coyne
If there is one image that defines me as a photographer it is the Red Door taken while I photographed on Ellis Island in 1989. It embodies all the elements of a photograph that I seek in my work – strong composition, balance and use of light. The muted brown tones depict the eroding interior of what once was a corridor where detained immigrants would pass daily. What the red door signifies to me is the unknown. The intense red color of the door anchors the image. We do not know what is on the other side for these immigrants. Is it hope or despair? Are they moving on to a better life or will they be detained or sent back to their homeland?
The Red Door has a special meaning for me since both my paternal and maternal grandparents came from Italy to America to start a new life.
This photograph was shown in my one person exhibition at The American Museum of Immigration on The Statue of Liberty.